[ CO2 Welding Machine ] Hyosung Welding Machine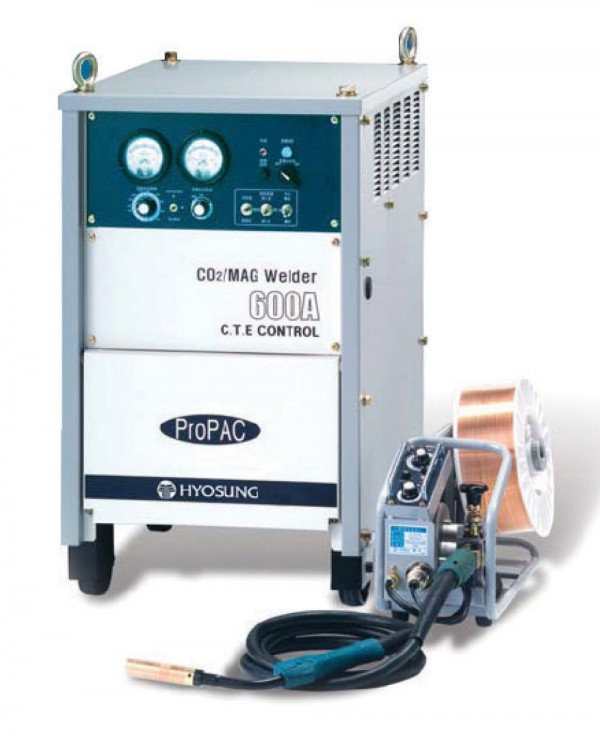 [ PROPAC SERIES ]
1) Having the latest function with no welding troubles.
2) 3-Way Feed Back System and safe PCB protection function.
3) Maintaining an stable output until 1st input voltage is changed to maximum ±15%.
4) Constantly maintaining output voltage even after extending 2nd welding cable to maximum 120m(60sq).
5) Constantly maintaining a feeding speed even though 2nd welding cable is long or voltage is dropped due to a loaded current variation of feeding motor.
6) Even if single cable has short circuit while welding, the damage of PCB circuit will be prevented and continuous welding can be possible.
7) Excellent Arc characteristic with C.T.S(Condition. Timing. Speed)
8) Further improving function of direct current reactor to embody the best suited waveform of current/voltage and having built-in circuit of Hot-start to make a small amount of spatter & a gentle Arc starting.
Model
ProPAC350
ProPAC500
ProPAC600
Rated Input Voltage
Three Phase 50Hz, 60Hz 220V, 380V, 440V
Rated Input
18KVA(16KW)
30KVA(26KW)
41KVA(36KW)
Output Current
50~350A
80~500A
80~600A
Output Voltage
14~36V
14~45V
14~52V
Rated Rate of use
350A 60% / 271A 100%
500A 60% / 387A 100%
100%
Dimension (mm)
375(W) * 560(L) * 730(H)
445(W) * 660(L) * 810(H)
490(W) * 690(L) * 850(H)