Inverter DC ARC Welder
1. Fixed damage to the IGBT component due to the instantaneous input power.
2. For good welding start of weak point welds added HOT Start on / off function.
3. Water & Vibration resisance.
4. Reliability improvement by using module type of output Diode and Standard IGBT.
5. All metals, deep welding (Mild steel, High Strength steel,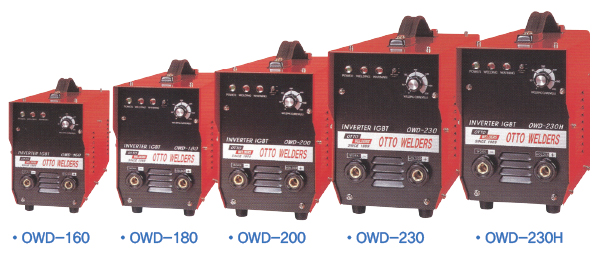 ■ Standard Spec.
Model
OWD-160
OWD-180
OWD-200
Welding Output
160A
180A
200A
Rated Output
3.5Kw
5Kw
7.5Kw
Rated Input
1φ, 220V
1φ, 220V
1φ, 220V
Rated Duty Cycle
40%
40%
60%
Frequency
50/60Hz
50/60Hz
50/60Hz
Model
OWD-230
OWD-230H
OWD-400
Welding Output
230A
230A
400A
Rated Output
8Kw
8Kw
20Kw
Rated Input
1φ, 220V
1,3φ, 380/440V
3φ, 220/380V
Rated Duty Cycle
60%
60%
60%
Frequency
50/60Hz
50/60Hz
50/60Hz